Working at Hope Integrated Academy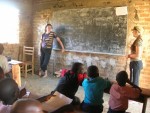 Teaching: You can teach high school classes during the day for senior one to three equivalent of grade 8-10. Volunteers may also help distribute lunch.


After-school program: Helping/tutoring kids in the after-school program. Students from neighboring villages drop in to get help on homework or review material covered in class for that day. The program runs between 4 - 7pm. Students grades range from elementary through high school. Ages between 4 - 22. There are local volunteers working with international volunteers. See after school program page

Sports, music, dance and drama activities for children and youth in the after-school. These extra-curri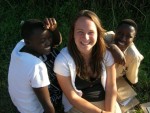 cular activities are planned for weekends.

Family outreach program: Volunteers visit families of the students participating in the after-school program to understand the situation at home and find ways to best serve the student needs.

Construction site assistance. You will have the opportunity to help with any work available at the school construction site.
Computer Center and Community Library: Volunteers help teach computer skills or just monitor students use of the computer center equipment. You may also help reshelving books and assist students check out books in the library. Occassionally when new books are purchased or donated by a volunteers, volunteers help catalogue them.