Volunteer Contribution Fee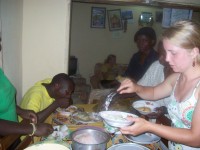 URF requests that a volunteer make some contribution toward expenses such as food and lodging. The fee should be given to Adrian at the host family upon arrival in US dollars. Please note, this is NOT a donation to URF. The money is simply used by the host family to house and feed you. If you have concerns about this contribution fee, please feel free to arrange alternative accomodation.
First month fee: $300.00 (U.S dollars).
Second month: $300.00
Third month: $250.00
Subquent months: $200.00
What it covers:
Meals (breakfast, lunch, dinner, and evening tea): Only meals taken at the host family and at off-site project BUT not for personal outings. Also, if working on a project off site and choose to eat at an expensive restaurant, you will be responsible for your meal expenses.
Lodging: bed, mattress, blanket are provided. Please bring bedsheets. Also bring a towel and mosquito net and other personal toiletries.
Fees also help with: bottled water, electricity bill, the cook/house maid, water transportation, phone calls by coordinator, and various basic utentials/supplies in the house to service your stay.
Project Development Fund

We request that volunteers fundraise before coming and make a contribution of at least $400 minumum to this development fund. This fund was set up to help with ongoing admin expenses and also contribute to various projects during your stay. Some volunteers have the capacity to fundraise and bring more money and it is encouraged. This is just a suggested minimum. Please arrange with volunteer cordinator for this money to remitted to URF before travelling to Uganda if you expect to get tax receipts. Below is how your suggested donation is broken down:
On-ground Admin: $100 (airtime, taxis, internet, stationary, jjajja's services, etc)
Hope Academy: $90 (teachers' salaries, electricity, photocopying, stationary, chalk, etc)
Orphanage: $90 (food and daily upkeep)
Health Care Fund: $60 (clinic/ clinic trips untill clinic is built )
Women's Programs: $60 (crafts, piggery, poultry, etc)
Airport pick up fee: $100. If you need arrangements made for pick up, please be ready to remburse $100. For returning to airport, you can make your own arrangements which is actually cheaper.
Volunteer Application Fee: $30 (US.dollars): Non refundable. Pay after an interview with the volunteer cordinator. Mail cash or check to Uganda Rural Fund, 300 Fraser Purchase Road, Latrobe, PA 15650. Any other volunteer fees are to be paid to the host family in Uganda.
What is NOT covered under the volunteer fee:
Ground transportation. Some projects are not on-site and if arrangement is made to work off-site, we ask volunteers to contribute toward gas expenses and we rent the vehicle.
Medical expenses
Meals not taken at the host family or service site
Telephone expenses
Carrying Cash: Please make sure you carry larger bills of $50 or $100 and they should be printed at least after 2004. The bills should not look old, ripped, or wrinkled. The banks are very picky; they wont accept old bill. You will get a very low exchange rate for smaller bills. ATMs are available in Masaka and Kampala. More about monnies
Essentials: Please bring a pair of bedsheets, a mosquoto net, and a towel. See details about what to bring
What We Do
URF operate: an orphanage, a vocational high school, after school programs, women empowerment programs, child sponsorship, and many more.



About Us
URF is a 501(c)(3) charity registered in Uganda, USA, and Canada. We focus on education, health, and community development in the most rural areas of Uganda.
News and Events
- Community Empowerment Seminar attended by 600 people
- 3 new homes built for child headed families.
- Men's group launched.
- Agriculture workshop for August. Business training workshop set for Sept.