In-kind Donations for Orphanage, After-school Program, or Hope Academy
Most airlines allow two check in luggage. Often volunteers fill up one luggage with personal belongings and use the second lu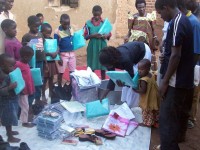 ggage to pack things to donate. Here is are some ideas of things we think might be useful. Don't be afraid to bring somethineg that is not on the list; it is not exchaustive. If you are not sure about the item you want to bring, please contact the volunteer coordinator.
Educational media: CD-roms, interactive videos, DVDs, CDs, Cassetes, etc.
Text books, especially English, Math, and Science. Books for kindergarten through high school would be resourceful.
Dictionaries
World Book or Britanica encyclopedias
Elementary and young adult fiction
Study posters
Computers and LCD (flat screen) monitors. It should be Pentium IV with at least Windows 2000 and in good condition.
Education games and puzzles
Chilren and teenage cloths - light cloth for summer. Winter cloths wont be useful in Uganda.
Movies - family type -appropriate for children. Also decent one for youth.
Soccer balls
Mosquito nets for kids at the orphanage
Bedsheets
Children's shoes (they can always fit someone)
Blank CD-R or flash drive for the computer center.
Kids Wish List : Go here if you want to give a specific item to a particular child.
PS. Bring things that are donated. Remember that most of the basic items on the list can easily and cheaply obtained in Uganda. So, don't spend so much purchasing things like cloths to carry to Uganda. It's better to take cash and purchase them locally.
Mailing/Shipping Packages to Uganda
If you family or friends who would like to ship in a package for you or for the kids, use this address below. However, you should always put in consideration the shipping costs. Sometimes shipping is more than the actual value of the package. On the customs form, please do not declare a large amount in content value because the receiver in Uganda will be charged a percentage of that value to retrieve the package.
Hope Integrated Academy
Nazareth Children's Home
<!xml:namespace prefix = st1 ns = "urn:schemas-microsoft-com:office:smarttags" /><!xml:namespace prefix = st1 /><!xml:namespace prefix = st1 /><!xml:namespace prefix = st1 /><!xml:namespace prefix = st1 /><!xml:namespace prefix = st1 /><!xml:namespace prefix = st1 /><!xml:namespace prefix = st1 /><!xml:namespace prefix = st1 /><!xml:namespace prefix = st1 /><!xml:namespace prefix = st1 /><!xml:namespace prefix = st1 /><!xml:namespace prefix = st1 /><!xml:namespace prefix = st1 />P.O. Box 1220
Masaka
Uganda – E. Africa
<!xml:namespace prefix = o ns = "urn:schemas-microsoft-com:office:office" /><!xml:namespace prefix = o /><!xml:namespace prefix = o /><!xml:namespace prefix = o /><!xml:namespace prefix = o /><!xml:namespace prefix = o /><!xml:namespace prefix = o /><!xml:namespace prefix = o /><!xml:namespace prefix = o /><!xml:namespace prefix = o /><!xml:namespace prefix = o /><!xml:namespace prefix = o /><!xml:namespace prefix = o /><!xml:namespace prefix = o />
Questions should be directed to John Mary at jmlugemwa@ugandaruralfund.org