Volunteer Living Arrangements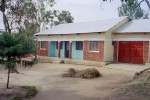 Volunteers are housed with a host family. Although we make efforts to make volunteers feel at home, please do not expect all the luxuries and conviniences you have left at home. The house doesn't have a ceiling; if that's a problem to you, let us know. Please respect the family's privacy. For more information and pictures of host family and village site visit www.waliggofamily.org
- Please bring yourself a mosquito net, pair of bedsheets, and towel. Also please bring some formal dressing cloths for occassions like church service, weddings, funerals, introductions, etc. To get a complete cultural experience, it's good to participate in some of these events. Usually the family would ask if you would like to come with them. Although people understand that in your culture you dress casually, it's disrespectifull to dress in casual torn cloths when everyone else is dressed up. It's an insult to poor people because they know you can afford nice cloths.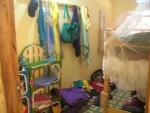 Here are some of the conditions you should expect and be prepared to adapt to:
- Expect to share a room with another volunteer (separate beds and some are bunk beds)
- No running water. Bottled water is provided for drinking. No showers but there is both an indoor and outdoor bathrooms.
- No flushing toilets. Be ready to use outdoor latrine.
- Electricity is available although sporadic
- Meals may come a little late than you are used to; please be patient.
- Internet access at home but be ready to make $20 contribution to network service charge.
- There is refrigeration if you have anything to keep cool.
- Be ready to adapt to Uganda rural way of life. Please be aware that conditions in rural africa aren't the same as back home.

Please be respectifull of the family privacy. Also, although you give a contribution fee, please be appreciative for the hospitality the family provides. There is so much effort and time put into making accomodations for your needs. Many sacrifices have been made by various family members to contribute to the progress of URF projects and are not paid for their work. The family has also donated the land where the Academy sits. Please do not think the fee you give is what sustains the family, it's basically for your upkeep. And it's not a donation to Uganda Rural Fund (see contribution fee) If you think what you give the family is too much, feel free to rent a house in the next town and figure out what it would cost living on your own in Uganda. There is a tendence for people to think everything is very cheap in Africa. I dont want to sound rude but some volunt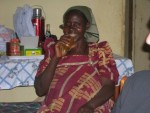 eers have given this impression and we want to avoid those misunderstandings.
Host Family Address:
Use this address for visa applications or embassy registration.
The Waliggo Family
Kyetume, Kyawagonya-Lwengo.
35KM Masaka - Mbarara Road
Masaka, Uganda.

If box number is needed, its P.O.Box 1220 Masaka.
Tel: +256-751-549834 (Adrian) or 772-952136 (Fred).
www.waliggofamily.org
---